Everybody's talking about Louis Navellier and Project Mastermind, but is this "predictive" trading tech the real deal? Our Accelerated Profits review aims to find out.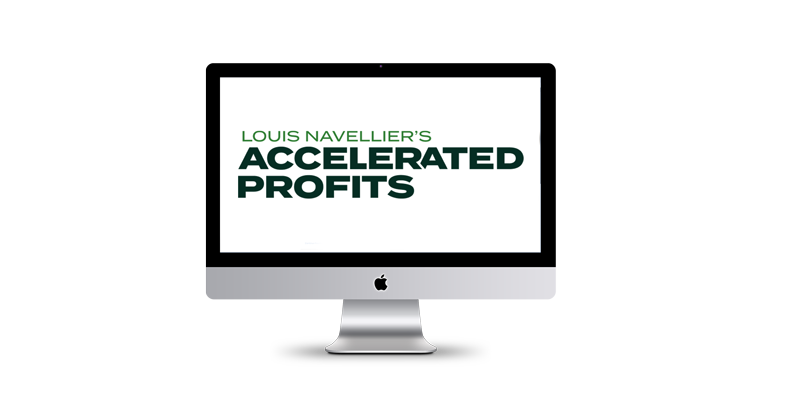 What Is Accelerated Profits?
Accelerated Profits is a premium research service from Louis Navellier and InvestorPlace that uses a proprietary stock-rating system to identify High Velocity and Ultimate Growth trades.
Navellier's approach combines fundamental ratings, momentum techniques, and high-frequency trades to maximize short-term upside.
Members of the service get access to Navellier's latest research, stock recommendations, and other valuable investing resources.
In his latest presentation, Navellier reveals his groundbreaking Project Mastermind research, which will cover in-depth later in this Accelerated Profits review.
Before we dive into Project Mastermind, let's take a closer look at the man behind the service with a brief Louis Navellier review.
>> Sign up now to save 20% on Project Mastermind <<

Louis Navellier is a world-renowned investor and the lead analyst for Accelerated Profits.
Navellier has more than 35 years of investing experience under his belt, and he's so respected on The Street that The New York Times once called him, "an icon among growth stock investors."
You might also recognize Navellier from his frequent appearances on cable finance news channels like CNBC and Fox Business News,
Since launching Growth Investor in 1998, Navellier's picks for the service have beaten the S&P 500 by a 3-to-1 margin over the past 17 years, according to his bio on InvestorPlace's website.
Today, Growth Investor and Accelerated Profits have thousands of loyal readers, and Navellier is one of the most respected gurus in the retail research space.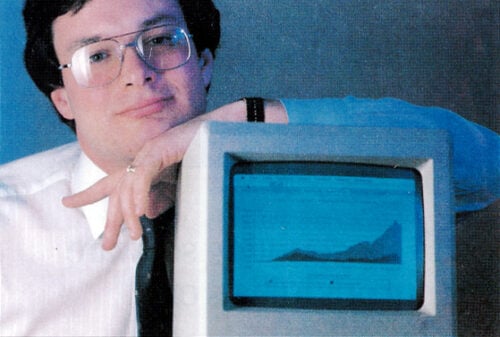 With more than 35 years' worth of experience, Louis Navellier is the real deal. Accelerated Profits members are in good hands with an expert like this leading the service.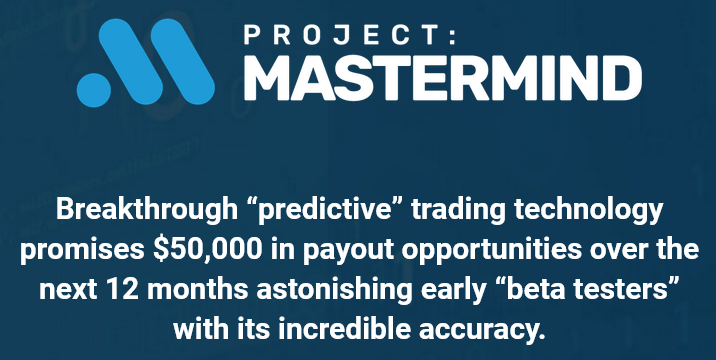 Accelerated Profits Project Mastermind Review
Project Mastermind is Louis Navellier's latest presentation for the cutting-edge analytics featured in his Accelerated Profits research service.
According to his presentation, Project Mastermind's is a breakthrough market forecasting system can produce payout opportunities as high as $50,000 within 12 months.
Navellier says that his early "beta testers" have been astonished at Project Mastermind's "incredible accuracy," and, now, he's debuting the system with his Accelerated Profits members.
But, what is Project Mastermind, how does it work, and can it really improve your trading outcomes?
>> Get the entire Project Mastermind bundle at a discounted rate here <<
What Is Project Mastermind?
Louis Navellier has had plenty of stock-picking success over his long investing career, but he wanted to develop a system that can deliver solid returns over a much shorter time period.
After extensive research and development, his work led him to develop Project Mastermind, a unique forecasting tool designed from the ground up to deliver big gains in a fraction of the time.
Navellier says this revolutionary system could be a "retirement gamechanger" that could help thousands of investors grow their portfolios in the crucial years leading up to retirement.
Whether you're interested in retirement or other investing goals, Project Mastermind could be the key to meeting your goals more quickly and efficiently.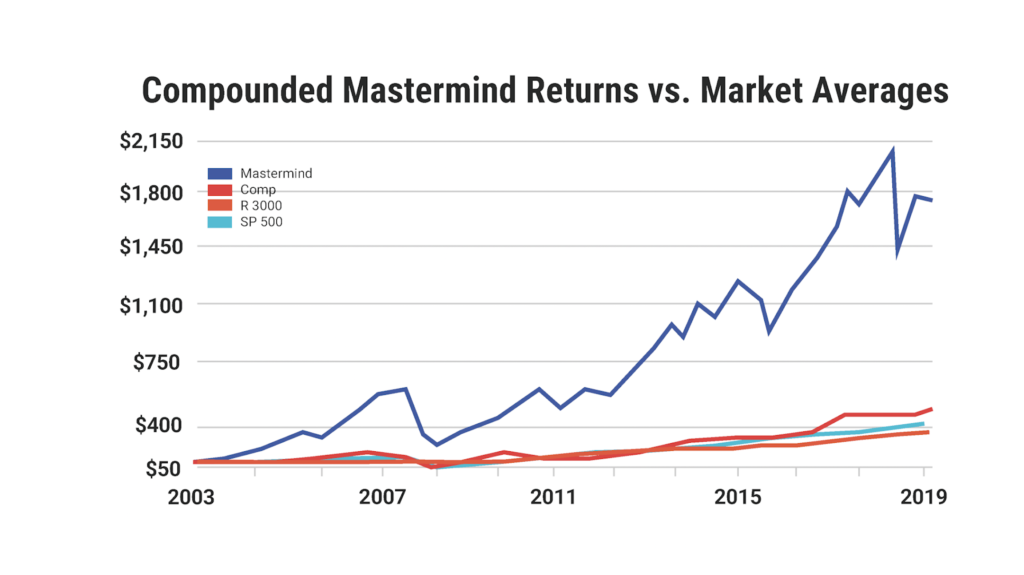 How Does It Work
Lots of gurus promise big gains in short times, but Project Mastermind is light-years ahead of the competition.
Few gurus can match Navellier's 40+ years of stock market experience and the data-driven precision investing strategies he's become synonymous with over the years.
Furthermore, we're not familiar with anyone who can top Navellier's track record for 6-to-1 market-beating performance.
Project Mastermind uses advanced analytics and proprietary AI technology to monitor big trends impacting stocks, such as urgent market news breaks.
From there, it zeroes in on high-velocity trades with 100%-plus growth potential and brings its findings directly to Accelerated Profits members.
It took Navellier decades to amass the experience he needed to develop this revolutionary system, and, after years of development, the technology is finally ready for prime time.
>> Put Project Mastermind to use in your portfolio with Accelerated Profits <<
Project Mastermind: Greatest Hits
Here are some of the top stocks uncovered by Project Mastermind: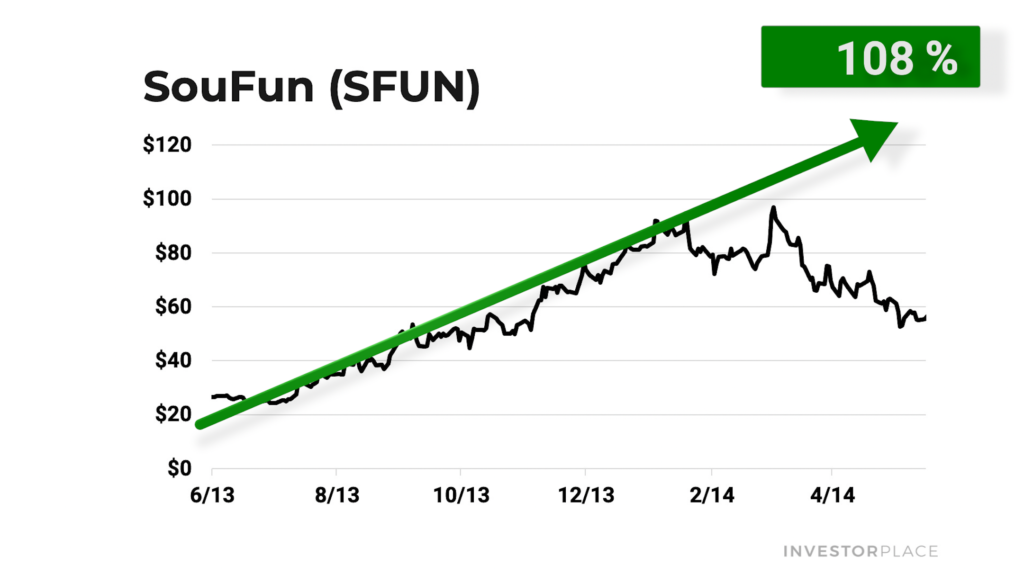 SouFun returned 108% following a Project Mastermind alert, and the company became so profitable that it later paid an 11% dividend to its investors.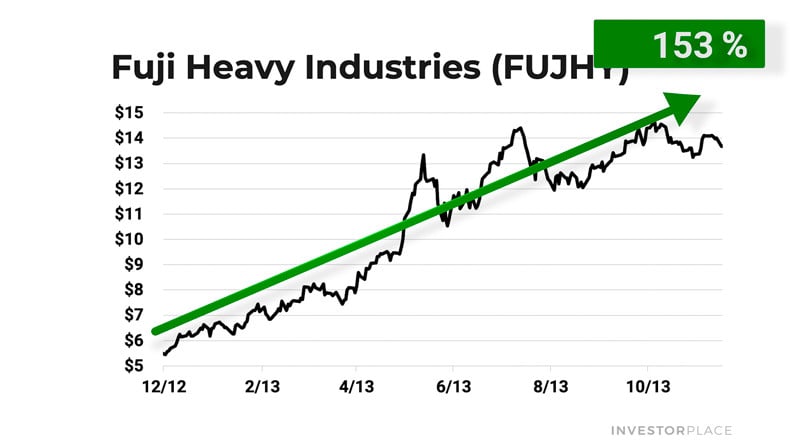 Fuji Heavy Industries has a "pristine" balance sheet, according to Seeking Alpha, and it went out to gain 153% after Navellier sounded the alert.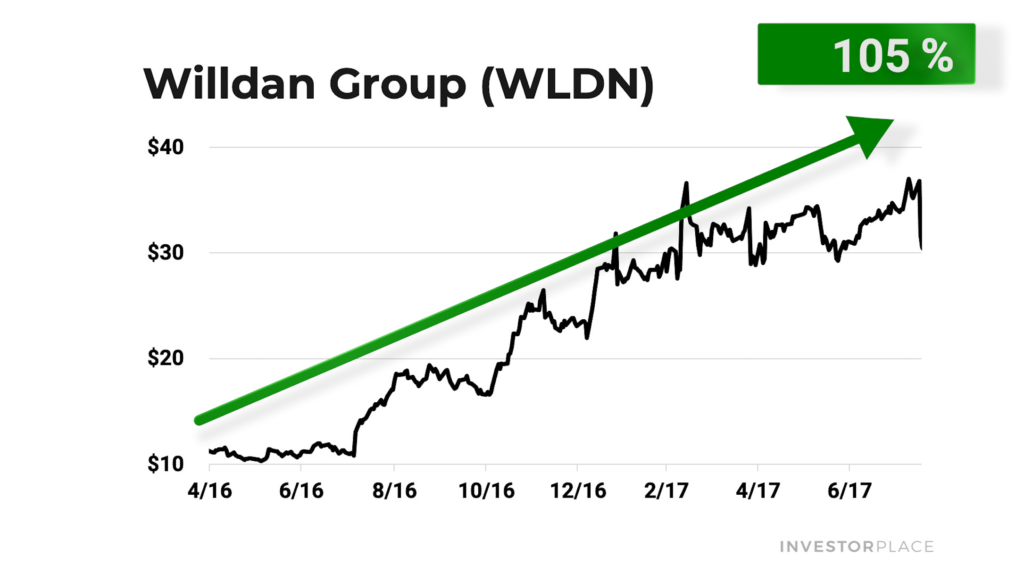 Wildan Group is another Project Mastermind winner that gave Navellier's followers a chance to tap into a 105% gain.
These picks represent only a small sampling of Project Mastermind's trade recommendation track record, but the results are nonetheless impressive.
All investments carry risk, and you can't expect to achieve gains like this on every call. However, it's a dramatic demonstration of Project Mastermind's potential.
Since its inception, Navellier's forecasting system has produced a 92% annualized gain, a figure representing the gains from all recommendations scaled to a one-year period.
It's hard to dismiss groundbreaking results like that. Clearly, these stocks produced big profits, and Louis Navellier's Accelerated Profits is doing something right.
But, what are the next growth stocks that could explode? We'll take a look at the latest promising Accelerated Profits stocks in the next section.
>> Join now for instant access to more Project Mastermind picks <<
5 Growth Trades That Could Soar 500% or More
Project Mastermind has identified five high-potential stocks that could soar in the months ahead, and Louis Nevellier has put together an extensive research report detailing his findings.
To celebrate the debut of his revolutionary forecasting system, Navellier is giving away this report for free to everyone who signs up under the Project Mastermind deal.
Inside, you'll find exhaustive details on five promising small stocks that could see a massive growth surge in the weeks ahead.
This report includes each individual stock's ticker symbol, earnings scorecard, fundamental ratings, buy-up-to-price, and much more.
By the time you're done reading the report, you'll have all the information you need to jump on board these fast-moving trades.
However, this roundup of potentially explosive stock picks is just one of many valuable investing resources you get with Project Mastermind.
Next, our Accelerated Profits review puts the entire bundle under the microscope, so you can get a full picture of everything that's included with this deal.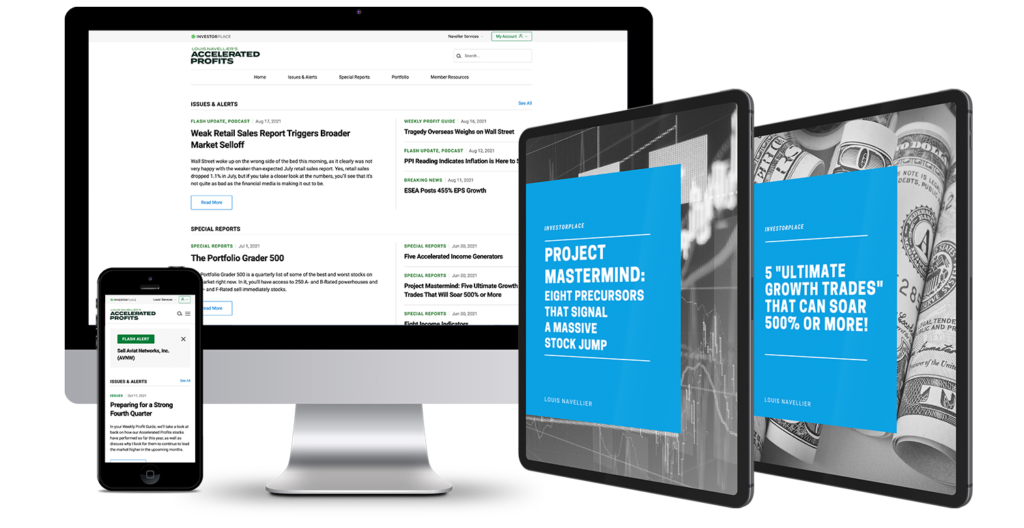 What's Included with Project Mastermind?
One-year membership to Louis Navellier's Accelerated Profits; including four fast-moving stock recommendations every month on average.
Project Mastermind trade alerts
The Project Mastermind Weekly Issue
Five "Ultimate Growth Trades" That Can Soar 500% or More
Project Mastermind: Eight Precursors That Signal a Massive Stock Jump
Navellier's performance promise
Accelerated Profits Subscription
Accelerated Profits is the cornerstone of the Project Mastermind deal. This is where you can find Navellier's latest research and Project Mastermind stock recommendations.
You'll enjoy access to a wide range of valuable benefits as an Accelerate Profits member, including regular reports on the hottest-moving stocks and other breaking news updates.
You'll get an entire 12-month's worth of stock recommendations, trade alerts, and expert investment analysis when you join Louis Navellier's Accelerated Profits, and much more.
Furthermore, you also get access to the Accelerated Profits members-only web site when you join. There, you can find even more in-depth investing research and valuable trading resources.
The service makes it easy to stay up on Navellier's latest findings, and it could lead you to big profits over the course of your one-year subscription.
>> Get started with Accelerated Profits now <<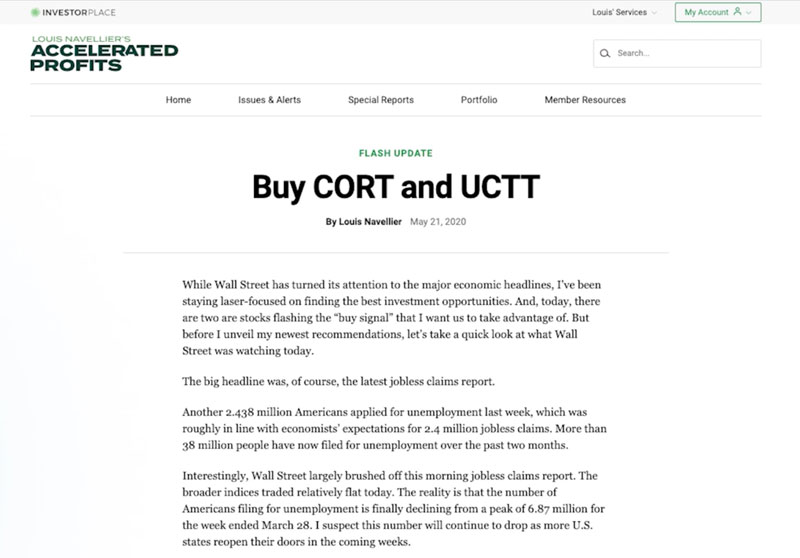 Project Mastermind Trade Alerts
The stock market never stops moving and, sometimes, you have to act quickly to take advantage of fast-moving trades.
For most self-directed market watchers, that means constantly tracking your portfolio, setting up mountains of price alerts, and constantly sweating the market during trading days.
However, Louis Navellier's Accelerated Profits makes it easy for members to stay on top of the latest news with Project Mastermind Trade Alerts.
Anytime there's a big trend rolling through the market, Navellier will let you know with a special trade alert, including a summary of the news and each ticker symbol in the Accelerated Profits buy list that could be affected.
If it's time to exit or add to a position, Navellier will let you know with a timely alert that gives you plenty of time to take action.
He'll also advise you on the best steps forward for each trade recommendation that could be affected by the late-breaking news, so you can move forward confidently.
No matter what the market throws at you next, Louis Navellier will help you navigate the uncertainty with a steady stream of informative trade alerts.
>> Sign up now to access Navellier's latest trade alerts <<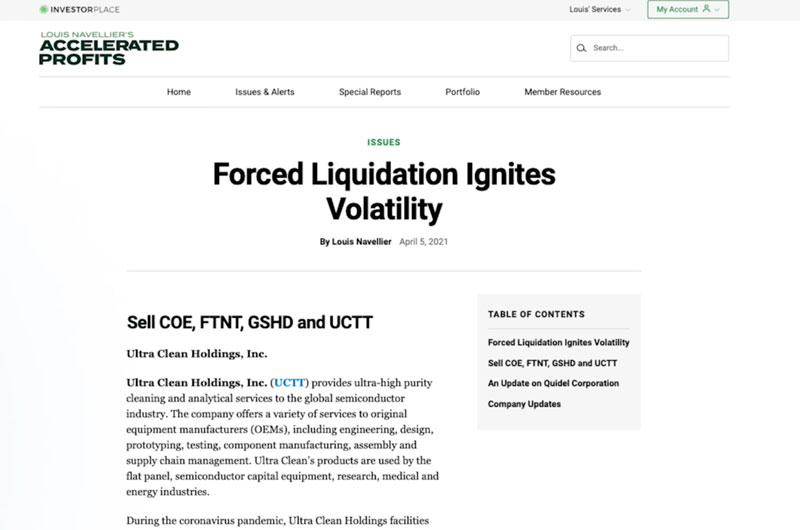 The Project Mastermind Weekly Issue
Each week, Louis Navellier's Accelerated Profits members receive an in-depth report highlighting the latest news and big trends effecting the market.
The Weekly Issue also includes detailed updates on every Accelerated Profits recommendation, along with a summary of the latest market-moving news.
It's a quick read, but it's also highly informative. So, it strikes an excellent balance between keeping you informed without taking up too much of your time.
With the weekly report, you'll always know what factors are affecting the Accelerated Profits portfolio, so you can stay on top of the stock market with ease.
If you sign up under the Project Mastermind deal, you'll also get access to several in-depth bonus reports featuring promising stocks that could be approaching a tipping point.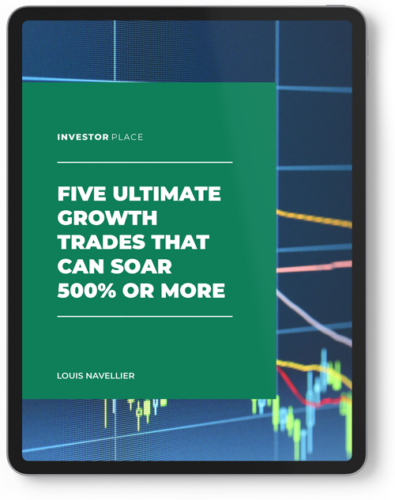 Five "Ultimate Growth Trades" That Can Soar 500% or More
The featured research report in this spread covers the five growth surge opportunities previously discussed in the section on Project Mastermind.
Each of these small stocks has the potential to produce big profits in the months ahead, and this exclusive research report provides a step-by-step guide for getting the most out of each opportunity.
As the title indicates, Navellier's research shows these stocks could have the potential to return 500% or more.
These stocks could be the most promising companies on the Accelerated Profits buy list, so make sure you give this report a close look if you decide to join.
>> Get instant access to Five "Ultimate Growth Trades" when you join now <<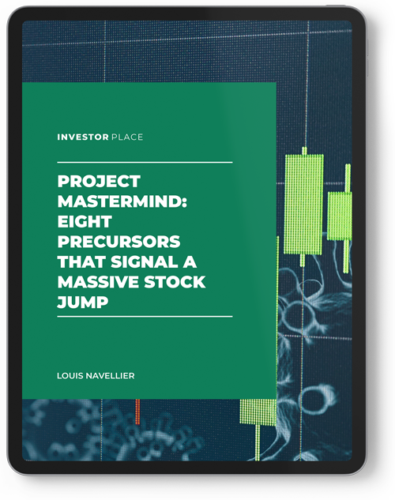 Project Mastermind: Eight Precursors That Signal a Massive Stock Jump
This Project Mastermind bonus report highlights eight signals that could signal a massive rally is around the corner for a given stock.
When used correctly, these advanced indicators could be the key to locating dozens of stocks with breakout potential.
Best of all, these signals have the potential to reliable with virtually any type of stocks, including large stocks, value stocks, growth stocks, and much more.
If you can master the techniques outlined in this report, you'll have a reliable step-by-step blueprint for pinpointing and capitalizing on high-velocity trades across the market.
The first report points you towards promising opportunities, and this one shows you how to replicate some of Navellier's game-changing forecasting techniques.
Together, these two bonus reports give members a solid foundation for taking full advantage of everything Project Mastermind has to offer.
Performance Promise
Accelerated Profits' refund policy doesn't include a money-back guarantee. Navellier says the policy is intended to prevent people from signing up to see his top-5 picks and then requesting a refund.
It wouldn't be fair to Accelerated Profits' paying members if people were allowed to abuse the system and see the picks for free, so Navellier's position is understandable.
However, Navellier wants to show he stands by his product, so he covers each Project Mastermind subscription with a bold performance guarantee.
Navellier promises that if you don't see at least 20 opportunities to generate a return of $2,500 over your first year of Accelerated Profits, he'll give you another one-year subscription free.
To take advantage of Navellier's promise, all you have to do is call the customer service team and ask. Navellier says, "I want to make sure every member has a chance to experience a $50,000 opportunity."
If the lack of a money-back guarantee causes you some concern, Navellier's performance promise should reassure any anxieties you may have. The guarantee is a clear testament to Louis Navellier's commitment to his subscribers and his research.
>> Get started now and take advantage of Louis Navellier's performance promise <<
Accelerated Profits Review: Pros and Cons
Accelerated Profits and Project Mastermind look like great services, but no one is perfect. Here are the pros and cons of Accelerated Profits.
Pros
One-year membership to Louis Navellier's Accelerated Profits
Premium service with valuable benefits
Get an average of four new Project Mastermind stock recommendations every month
Backed by growth investing "icon" Louis Navellier
Instant access to 4 "ultimate growth trades" with 500%+ potential
Project Mastermind research report shows you 8 signals that can preclude a big rally
Trade alerts when it's time to make a move
Weekly updates on the Accelerated Profits model portfolio
Project Mastermind proprietary AI-powered stock ratings
Respected publisher in InvestorPlace
Navellier has an impressive track record for market-beating performance
20 x $2,500 profit opportunities in your first year or get a second year free
Cons
No community chat or forum
May be price prohibitive for some
Accelerated Profits Track Record
Louis Navellier's Accelerated Profits has been picking winners for years, but Project Mastermind's AI-powered analytics could take his picks to the next level.
Here are some of Louis Navellier's greatest hits: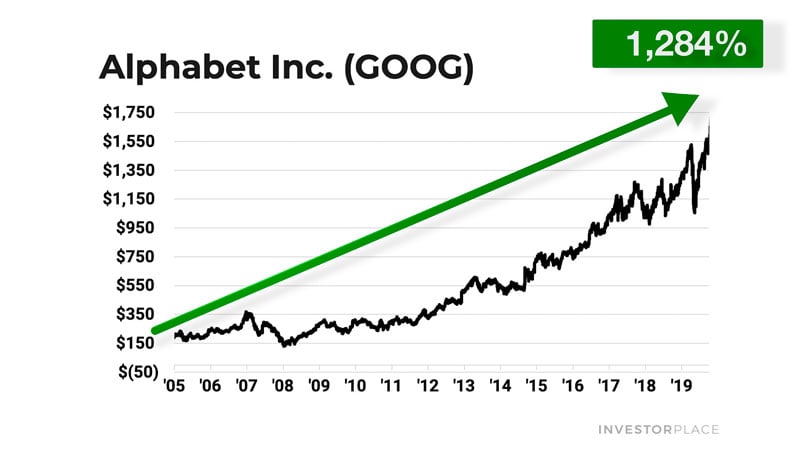 Navellier alerted his followers to an opportunity in Google's parent company, Alphabet Inc, back in 2005. It gained 1,284% over the next several years.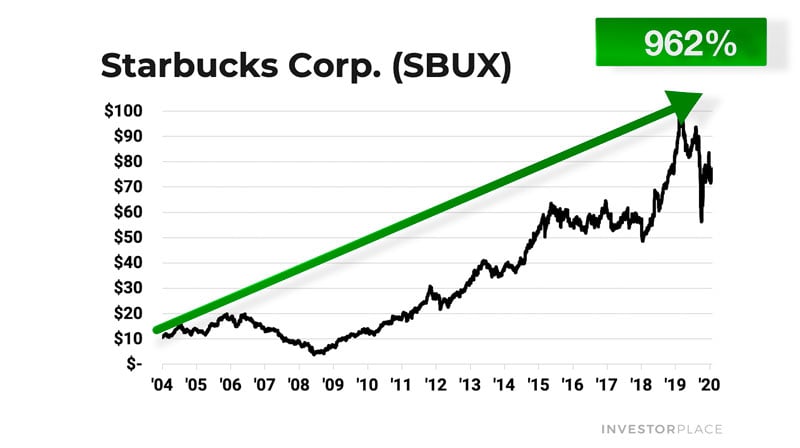 Starbucks was recommended by Navellier in 2004, and the stock later soared to a 962% gain.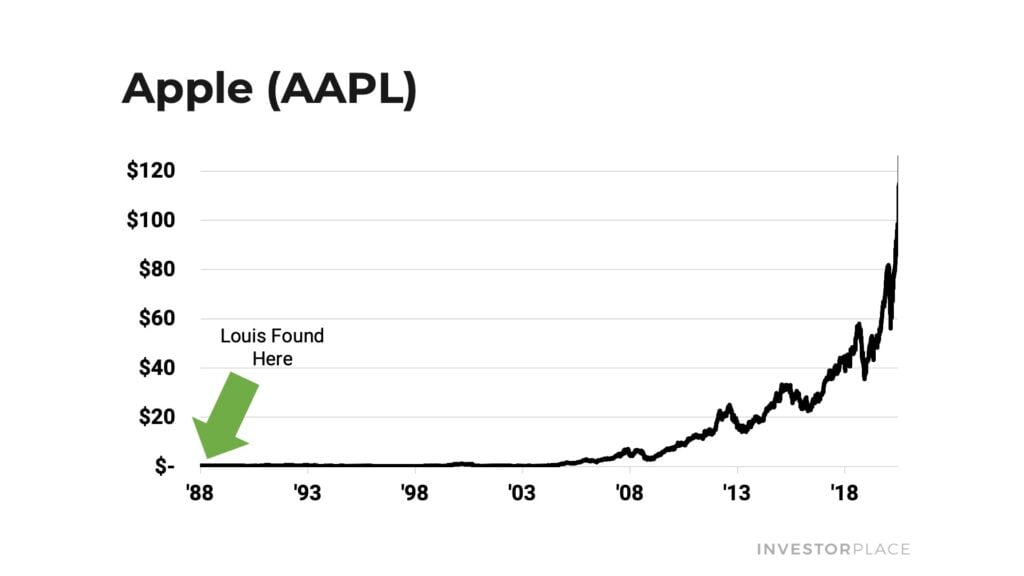 Navellier was even ahead of the curve on Apple. He found the stock when it was trading for just $1.49 per share.
These examples represent some of the most successful stocks of the past 20 years, and they clearly demonstrate Navellier's stock-picking prowess.
>> Sign up now to see Louis Navellier's latest stock picks <<
Accelerated Profits Reviews by Members
Many Accelerated Profits members are singing Louis Navellier's praises. Here are some noteworthy Accelerated Profits reviews by members.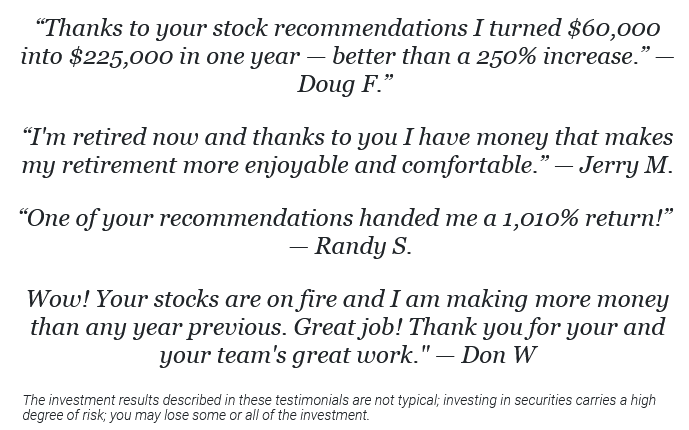 These reviews came from Navellier's Project Mastermind presentation, so take them with a grain of salt.
These results shouldn't be regarded as typical, but they show you what is possible with an expert service like Louis Navellier's Accelerated Profits in your corner.
How Much Is Accelerated Profits?
Accelerated Profits is an elite-tier research service, and it carries a higher cost than you'd see with most run-of-the-mill investing newsletters.
A one-year membership to Accelerated Profits typically retails for $2,499, but we've secured a special discount for our readers to raise awareness for the Project Mastermind opportunity.
For a limited time, you can save 20% when you sign up for the Project Mastermind bundle and pay just $1,999 for the entire package.
At that rate, your average monthly cost comes out to about $167. In exchange, you get the entire Project Mastermind bundle, included an average of four new recommendations every month.
Alternatives to Accelerated Profits
Accelerated Profits is an excellent newsletter. However, there are alternatives worth considering.
>> Join now to take advantage of this limited-time deal <<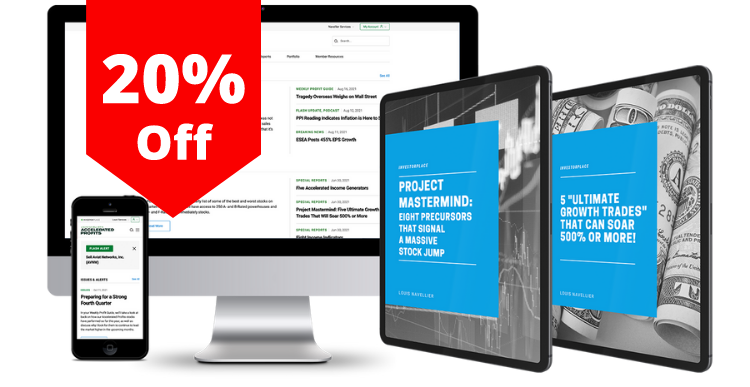 Is Accelerated Profits Worth It?
After a thorough Accelerated Profits review, we are impressed with this service.
Accelerated Profits carries a higher price tag than many entry-level research services, but members get a lot more value for their dollar.
Project Mastermind subscribers will get an average of four new stock picks every month, while most entry-level services only offer one monthly pick.
So, you get roughly 300% more stock picks with Accelerated Profits than you would with a monthly investment newsletter.
You'll get even more value with the Project Mastermind deal, including 4 "ultimate growth trades" that could soar 500%, and a bonus guide detailing 8 precursors to a massive stock jump.
You're also covered with Navellier's performance promise of 20 $2,500 profit opportunities in your first year, or you'll get another year free.
When it comes to investment research, you get what you pay for, and Accelerated Profits' has sophisticated analytics and AI-powered Project Mastermind that make it one of the best services on the market.
If you're ready to take your investment strategy to the next level, Louis Navellier's Accelerate Profits and Project Mastermind could be the final ingredient you need for success.
>> Sign up for Louis Navellier's Accelerated Profits now and save 20% <<