HubSpot is a company that provides professional services and marketing automation software to enterprise businesses. But what are the biggest Hubspot competitors and how do they stack up? Read on to learn more.
What is Hubspot?
HubSpot was initially designed for small-scale business customers but thanks to rapid growth it now targets businesses of all sizes. In its first year, it grew from three customers to over 8,000.
The company was founded in 2006 by MIT students Brian Halligan and Dharmesh Shah.
The company has its headquarters in Cambridge, Massachusetts, and is listed on the New York Stock Exchange (NYSE) under the ticker symbol HUBS.
Total revenues for HubSpot were $883.026 million in 2020, and the operating income was $-50.828 million. Over 3,000 people work for the company across its ten offices.
HubSpot has acquired the company Kemvi, an artificial intelligence and machine learning business. Additionally, they have acquired The Hustle newsletter which targets small businesses.

HubSpot's Advantage and SWOT Analysis
HubSpot is an all-in-one platform that provides all the marketing tools businesses of any size can use.
HubSpot offers companies large and small a marketing automation solution that can save time and resources with social media, ad management, sales automation, and more.
All of its tools also come with analytics which can help customers create reports to efficiently track progress.
Strengths
HubSpot has excellent customer service and a comprehensive knowledge base, both of which enhance customer experience with the company.
HubSpot's advanced tools give the company a competitive edge against would-be competitors. Its marketing automation tools help large and small businesses alike with common digital marketing needs.
These automation features provide clients with a simple interface for mobile marketing, consumer marketing, inbound marketing, and social media management on one platform.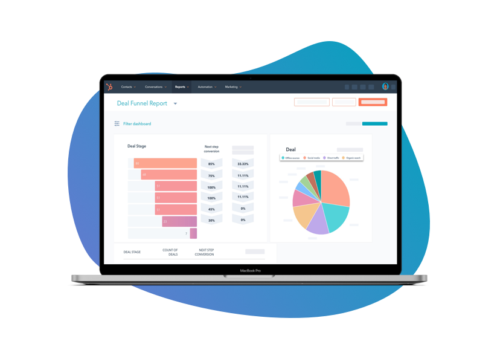 Weaknesses
HubSpot's pricing plans may seem expensive for small companies as their business grows.
Smaller companies may feel they cannot afford to utilize the full marketing platform if they're not yet generating enough income to justify the spend.
Though HubSpot has a powerful platform, it can be intimidating for new users and has a steep learning curve.
The company has a lack of revenue diversity. Its main source of income comes from the subscription fees it charges for access to its software, which accounts for 96% of the company's total revenue.
Opportunities
HubSpot could consider offering flexible contracts to new or established customers. By allowing upgrades, downgrades, or a la cart offerings, small business prospects may be more inclined to try the product offerings.
The company has more opportunities for growth and positioning in the market. The Covid-19 pandemic shifted workplace norms, and HubSpot can take advantage of those residual changes by positioning itself as the all-in-one hybrid work tool solution.
HubSpot offers free tools such as the website grader which enables it to attract new business. By offering certain services for free the company can upsell its paid services to interested buyers.
Threats
Employee attrition rates. As workforce trends shift, the company may face a shortage of available and qualified employees.
High competition from new or existing companies. HubSpot competitor threats come from companies that specialize in one service or solution and those that want to be an all-in-one replacement.
HubSpot's Biggest Competitors
HubSpot's software offers comprehensive customer relationship management, the basics of which are provided for free. The company is considered to be the sixth biggest in the CRM market.
HubSpot also offers training, consulting, and technical services that are aimed at providing customers with maximum results. Its CRM Free offers a lot of helpful features that integrate with other programs such as Gmail and Microsoft Office.
HubSpot's competitors offer similar features:
Salesforce – The industry-leading CRM solution.

Zoho – An Indian company providing CRM software.

Microsoft Dynamics – Microsoft's line of CRM software.
Salesforce
Salesforce is the leading CRM software provider in the world and it also provides certain cloud computing services. It began in 1999 after being developed by former Oracle employees Parker Harris, Dave Moellenhoff, Marc Benioff, and Frank Dominguez.
Its flagship product is the CRM software also called Salesforce. Clients can access the software through the web-based application which removes the need for IT infrastructure.
This helps companies save costs as it reduces their in-house overhead. Salesforce is publicly traded on the New York Stock Exchange under the ticker symbol CRM following its initial public offering in 2004.
As of 2021 the company had an operating income of $21.25 billion with an operating income of $455 million.
The company acquired Slack in 2020 for a total of $27.7 billion. Thanks to its reputation and ability to save businesses money, Salesforce has grown to service 100,000 customers around the world.
Zoho
Zoho was founded in 1996 and was known as AdventNet, Inc. The company was founded by Sridhar Vembu and Tony Thomas and is located in Chennai, Tamil Nadu, India.
The company has grown to include offices in seven locations around the world including a corporate headquarters in Pleasanton, California.
It is known for its suite of office tools, including word processing, spreadsheets, and databases. Its CRM software was released in 2005 and Zoho launched its flagship bundle Zoho One which includes over 40 applications.
The company is privately held but its total revenues for 2021 were revealed to be $690 million with an operating income of $250 million. Over 12,000 people work for the Zoho Corporation.
The company is reported to have over 80,000 customers with 20 million people using its software. Zoho has many high-profile clients including Hewlett Packard, Facebook, Amazon, and Netflix.

Microsoft Dynamics
Microsoft Dynamics is the brand name for the company's line of customer relationship management software and enterprise resource planning applications.
The product was originally developed by Jesper Balser, Toben Wind, and Peter Bang in 1983 under the name Navision Damgaard.
By 2002 the programs had become a part of Microsoft's Business Solution catalog. Its CRM software is called Microsoft Dynamics 365 Customer Service.
A major benefit of Microsoft Dynamics is that it can be integrated with other Microsoft products like Outlook, SharePoint, and Azure.
Microsoft is a publicly-traded company listed on Nasdaq under the ticker symbol MSFT. It is one of only three companies with a market cap of over one trillion dollars.
The company reported total revenue of $143 billion in 2020 and they had an operating income of $53 billion.
Microsoft Dynamics is a small part of Microsoft's business but an integral part that helps it to compete with startups like HubSpot. Microsoft has brand recognition that can help it attract businesses familiar with the name.
HubSpot Competitors and Alternatives: Final Thoughts
HubSpot may be some way behind Salesforce in terms of revenue and customer but it is steadily growing. The company has developed its software so that it can offer all the services a business would need in one location.
HubSpot is competitively priced and gives access to certain features for free. It can convert these users into paid subscriptions by providing real value even at a free level.