Are you looking for some great tech stocks to invest in, but don't want to break the bank? Check out these five tech stocks under 5 dollars.
When most people think of the stock market, they think of Wall Street and the big players.
But there's a whole other world of stocks out there, especially when it comes to startup tech companies.
These companies are at the forefront of new technology, and investing in them early could result in massive returns.
In this article, we'll look at some of the best startup tech stocks to invest in.
We'll also discuss why they're worth investing in and what you could expect from them in the future.
So if you're looking to get into the world of trading or already diving in, read on for some helpful advice on tech stocks under $5.
Looking for more penny stock picks? Check out Best Stocks Under $2, Best Stocks Under $1, and Best Stocks Under 50 Cents.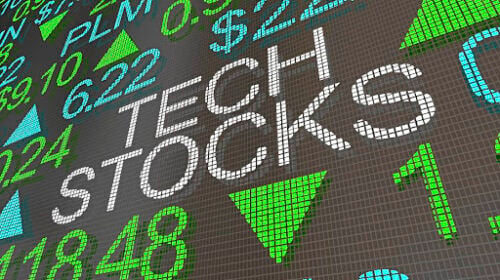 Best Tech Stocks Under $5
eMagin Corporation (NYSE: EMAN)
eMagin Corporation is a microcap tech stock that has seen its stock prices rise in recent months.
The company produces OLED microdisplays for military, industrial, and medical applications.
It has seen success in the medical field due to a growing demand for wearable displays, which can help physicians monitor patient vitals and treatments in real-time.
eMagin Corporation manufactures OLED microdisplays used in virtual reality (VR) headsets, augmented reality (AR) headsets, and other head-mounted displays.
The company's products are well-regarded by customers and enjoy a leading market share in the microdisplay market.
The company's recent financial report shows that it is doing well, with strong growth in both revenue and profit.
eMagin Corporation is also cash-flow positive, which means that it has more than enough liquidity to finance its operations.
In its latest financial report, the company posted total revenue of $5.8 Million on Diversified Product Sales and Contracts.
With a reported sales backlog of $14.9 million, the company is well-positioned to continue this growth in the coming quarters.
eMagin Corporation is a well-run company with a bright future, its products are in high demand, and its financials are strong.
The company could be a good investment for anyone looking to gain exposure to the VR/AR market.
xela Technologies, Inc. (NASDAQ: XELA)
xela Technologies, Inc. (NASDAQ: XELA) is a technology stock that is trading for under $5 per share.
The company is focused on the development and marketing of innovative products and services for the healthcare industry.
It operates in two segments.
The first is information & transaction processing solutions: this segment offers mortgage and auto loan lending solutions.
The second segment is healthcare solutions, which provides electronic health record (EHR) software and legal and loss prevention services.
The company has a strong track record of growth, and its products and services are in high demand by healthcare providers and government agencies.
The last financial quarter revealed revenue of $279.2 million with an increase in gross profit of 24.2%.
Its EBITDA also showed growth of $49.1 million, an increase of 30% from $37.7 million in Q3 2020.
All of these reasons are enough to invest, but there's more.
xela Technologies announced earlier this month that a new partnership was made with the UK Post Office.
This signals a shift in the company's use of its ICS technology.
Overall, with its stock trading for under $5 a share, now may be an excellent time to consider investing in Xela Technologies, Inc. (NASDAQ: XELA).
SeaChange International, Inc. (NASDAQ: SEAC)
SeaChange International, Inc. (SEAC) is a technology company that provides video software and services.
The company's products enable service providers to deliver television content over the internet, IPTV, and digital cable.
SeaChange's customers include AT&T, Comcast, Verizon, and Dish Network.
It recently made headlines when the company announced its latest financial report — displaying revenue of $7.2 million, compared to $6.5 million, a sequential growth of 49%.
Non-GAAP also showed excellent results with a net income of $1.4 million, or $0.03 per diluted share.
These numbers reflect the growing demand for SeaChange's products and services, as it continues to lead the market with innovative offerings.
SeaChange has been involved in discussions of a possible merger with Triller, a short video app.
It is reportedly investing $250 million in Triller's growing company, with a valuation of $5.1 billion.
Looking forward, SeaChange expects continued growth in both its product lines and customer base.
The company remains well-positioned to capitalize on the increasing demand for video content delivery solutions.
Investors should keep an eye on SeaChange as it continues to grow and innovate in the video software industry.
Bridgeline Digital, Inc. (NASDAQ: BLIN)
BLIN is a web development platform that helps businesses create and manage websites.
The company has seen steady growth over the past few years, and it looks poised to continue this trend in the years to come.
One of the main reasons for BLIN's growth is its strong partnerships with major companies such as IBM, Microsoft, GSTC, Databravo — not to mention its most recent product partnership with an unnamed Inc Top 1,000 company.
These partnerships give BLIN a competitive edge against other web development platforms and could help the company maintain its growth trajectory in the years to come.
The company's fourth-quarter financial reports detail impressive growth, and it looks like BLIN could be on track for another great year.
Bridgeline Digital demonstrated impressive results across all key business metrics for the 4th quarter 2021 reporting period. Its revenue increased by 52%, from $2.7 million last year to $4.1 million.
Gross profit increased 53% from $1.8 million to $2.8 million.
The company is expecting continued advancement in the years to come.
So BLIN could potentially be a significant investment for anyone looking to get into the web development space, and a penny stock you want to watch out for.
Top Tech Stocks Under 5 Bucks
Ceragon Networks Ltd. (NASDAQ: CRNT)
Ceragon Networks Ltd. (NASDAQ: CRNT) is a tech stock that provides wireless backhaul solutions to allow cellular carriers and other service providers to deliver voice and data services.
Ceragon's products are in high demand due to the growth of data services, and the company has been able to grow its revenue and earnings at a brisk pace.
In its recent earnings report, CRNT delivered another strong quarter of results, with revenue up 7.84% year-over-year amounting to $76.12 million.
It also reported a steady gross margin of 31%, with an operating margin of $6.6 million, a decrease from $7.3 million in the previous quarter.
It's worth noting that Ceragon's CEO Doron Arazi hinted: "three telecom operators have recently been approved to start 5G trials."
Spectrum auctions are expected to take place in 2021."
The company also raised guidance for next year, saying it expects revenues between $275 million to $295 million.
Ceragon's management has guided its earnings on a GAAP basis to be between $0.15 and $0.21 next year, or about 10% above this year's guidance of $0.17 per share.
There are plenty of catalysts for Ceragon ahead: 5G trials, spectrum auctions, and acquisitions among them.
The current stock price looks like it could be a good entry point, and taking a position with CRNT now could prove profitable as we head toward 2022.
Waitr Holdings Inc. (NASDAQ: WTRH)
Waitr Holdings Inc. (NASDAQ: WTRH) is a technology company that provides food ordering and delivery services.
The company was founded in 2013 and is headquartered in Lake Charles, Louisiana.
The company operates a mobile app that enables customers to order food from local restaurants and have it delivered to their homes or offices.
Waitr has more than 70,000 restaurant partners in over 700 cities across the United States.
Business is expanding rapidly for Waitr as it recently reported an increase in net income of $12.3 million from $4.6 million last year.
The company has been on the rise after hurricane devastation on its core southeast markets.
Despite the catastrophe, it managed to grow its EBITDA by 24% compared to last quarter.
With thousands of partnered restaurants, the company has no plan of stopping.
It recently announced its partnership with Smoothie King and is looking to expand its delivery service to airports, hospitals, and other institutions.
The food delivery market is booming, and Waitr Holdings Inc. (NASDAQ: WTRH) is one of the companies leading the charge.
If you want to profit from this trend, now might be a good time to consider investing in Waitr Holdings.
Moving iMage Technologies (NASDAQ: MITQ)
Moving iMage Technologies (MITQ) is a tech stock that has been around since 2006 and is headquartered in California.
MITQ develops and markets software that helps businesses move images and videos faster and more securely across the web.
The company has seen steady development over the past few years, with revenues increasing from 98% to $3.5 Million from its last earnings report.
In addition, MITQ's net income has eliminated its debt of $3.1 million and rebuilt its cash reserve, making it a very attractive investment for the future.
Sales backlog also remains strong with $7.7 million at the end of the quarter that has yet to be converted into revenue.
The company is in a stable financial position and looks poised to continue its growth trajectory with fiscal revenue guidance of $12 to $15 million in 2022.
Equipped with an expanding customer base and innovative products, MITQ is well-positioned to take advantage of the increasing demand for image and video transfer solutions.
Investors who are interested in this tech stock should keep an eye on MITQ's upcoming earnings report, as it could provide further insight into the company's future prospects.
Startup Tech Stocks Under 5 Dollars
Trivago N.V (NASDAQ: TRVG)
Trivago N.V (NASDAQ: TRVG) is a technology startup stock that operates a website that allows users to compare hotel prices between different providers.
Trivago has seen strong growth in recent years from its initial public offering, and the company is now profitable.
However, because of the pandemic, the travel and hotel sectors were hit hard.
As we reach the end of the year and watch the economy slowly rise, there is a profitable outlook awaiting Trivago.
Ease on travel restrictions has boosted Trivago's profit for the last quarter.
The company recently revealed a more than doubled increase in revenue; a 129% growth of $160 million from last year.
Also, Trivago N.V reported a net income of $5.5 million from a loss of $2.3 million last year.
Overall, the company is currently profitable, and these reports put them up by an 89% increase in its share price.
With a strong future for next year, Trivago could be a good investment option for those looking for exposure to the technology sector.
Inspira Technologies Oxy (NASDAQ: IINN)
Inspira Technologies Oxy is a startup medical technology company that focuses on specialty medical products and recently filed its IPO with Nasdaq.
The stock has been on a surge in recent months, gaining momentum as a result of a lot of buzz about the firm on internet forums like Reddit.
The company has seen great expansion in recent years, and its stock price has steadily risen.
In early 2021, Inspira Technologies Oxy generated a net profit of $2.2 million and cash and cash equivalents worth $17 million in the third quarter of this year.
The company's strong financial performance and promising product pipeline have helped to generate a lot of excitement among investors, and the stock has seen impressive gains after it filed its IPO in NASDAQ.
The company is well-positioned to capitalize on the growing demand for its products, and it could continue to see consistent growth in the years ahead as a result.
So if you are looking for a tech company ready to break out, consider investing in Inspira Technologies Oxy B.H.N. Ltd. (NASDAQ: IINN).
Should You Invest in Tech Stocks?
There are a lot of reasons to invest in startup tech stocks.
For one, these companies tend to be on the cutting edge of technology, and their products and services could be in high demand once they take off.
They are also often more innovative than larger, more established companies, which can mean more opportunities for advancement.
Another reason to invest in startup tech stocks is that they tend to be much cheaper than stocks of larger companies.
This means you can get a bigger bang for your buck by investing in them.
And since these stocks are likely to grow over time, you could see some big returns on your investment.
However, like with any investment, there are risks involved.
Startup tech companies can be volatile, and their stocks may not perform as well as you expect.
Another thing to note is that the Securities and Exchange Commission has more lax rules when it comes to what these companies need to report.
This means that you really need to study up on penny stocks to ensure you're not buying into a scam.
Your investment strategy should also incorporate factors like trading volume to find tech penny stocks with potentially less inherent risk.
Where to Buy Tech Stocks Under 5 Dollars
There are a number of places where you can buy penny stocks under five dollars.
Some of the most popular online brokerages include:
Robinhood: This is a commission-free stock trading app that allows you to buy and sell tech stocks under five dollars.
Its easy-to-use interface and wide selection of stocks make Robinhood a popular choice for investors.
Not to mention that it offers real-time market data and updates on the status of your portfolio.
If you're in the market for "cheap stocks" you can use its handy search feature to find the stocks on our list.
WeBull: This is another commission-free stock trading app that allows you to buy and sell tech stocks under $5.
The platform is pretty straightforward for beginners to use.
This can be a great option if you're looking for more diversity in your portfolio.
More on Buying Penny Stocks in Tech
Something to keep in mind is that neither of these platforms allow you to trade OTC stocks.
Though, the picks on our list trade on the NASDAQ and NYSE, so this doesn't matter.
Tech Stocks Under 5 Dollars: Final Thoughts
There could be a lot of money to be made if you do your due diligence and pick the right $5 tech penny stock to invest in.
Of course, we all know that there is no free lunch, and it takes quite a bit of study and market knowledge to find these gems without ending up broke.
It's not exactly easy for new investors to get their feet wet with such low-priced stocks, but even small investments can yield significant returns over time.
The nine tech penny stocks listed above demonstrate this point well enough.
But as with any investments, there are always risks, especially with penny stocks, so make sure you research before you buy.
Best Tech Stocks Under 5 Dollars FAQ
Read along for our answers to the most commonly asked questions about buying the best tech stocks under $5.
What Is a Good Tech Stock to Invest In?
If you could only pick one stock on the list, we recommend starting your search with our first entry eMagin Corporation (NYSE: EMAN).
Because of its price fluctuations over the year, you might want to hold onto this stock while it's down and wait until it sees a spike.
Who Gives the Best Advice for Best Tech Stocks?
Whitney Tilson from Empire Stock Research has a good eye for finding the best tech stocks on the market.
One of his specialties is looking for disruptive tech, which includes companies that operate within the TaaS sector.