Will Ravencoin hit $1? Read along to find out.
Raven coin has had an exciting run in its short lifespan.
It is one of the most well-known blockchain tokens spun from Bitcoin, the original cryptocurrency.
While this helps to offer it legitimacy, the question is whether that legitimacy is enough to get the Ravencoin price forecast above the one-dollar mark.
Let's take a closer look at what the Ravencoin blockchain really is, how it has performed on the market, and then delve deeper into Ravencoin price predictions.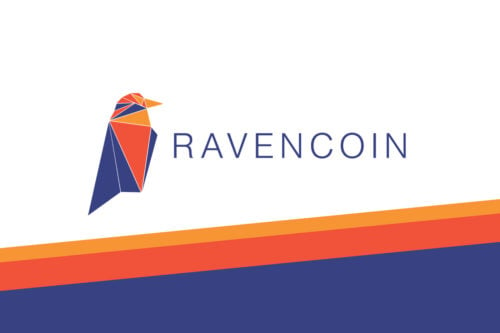 History of Ravencoin
Ravencoin is a blockchain developed in April 2018 by 430 Bitcoin developers who sought to create a new mining algorithm as an open-source project.
Commonly referred to as RVN, it's traded as tokens transferred via the Ravencoin network and was spun from the original Bitcoin code.
The main difference between Ravencoin and Bitcoin is that there are 21 billion RVN coins, and it does not take as long to mine Ravencoin as its parent cryptocurrency.
More on RVN
The price history of RVN has followed a relatively bearish trend as of late.
Still, at the same time, the developers have spurred bullish momentum by its halving strategy, which helps to combat inflation and keep the price steadily rising for the most part.
Of course, the new upper targets are not high, and changes have been rapidly recorded in just a fortnight regardless of the coin supply.
The RVN price hit its peak in February 2021, appearing at a high of $0.28854.
But the RVN price was not sustainable in the long run, dropping back to $0.15.
And when the crypto market crashed in May, the price fell again, showing a final rally close to $0.08.
How Much Is Ravencoin Worth?
At the time of publication, the Ravencoin price is $0.06607, approximately where the price has remained for much of December 2023.
Crypto is characteristically volatile, so this baseline is likely to fluctuate, though.
Ravencoin Market Cap
The current Ravencoin market cap is slightly over $6 million, which is a 6.270% drop but may be partially due to the halving that occurred at the start of the month that decreased the block reward.
How Many Ravencoins Are There?
The total supply of Ravencoin is capped at about 21 billion coins.
Out of the total supply, about 10 billion (almost half) of the coins have been mined.
The total supply could be reduced through manual burns, its auto-burn feature on transactions, or a coin consolidation like SafeMoon is planning.
Ravencoin Price Prediction
Using any sort of technical analysis to predict the future price of any crypto is tricky because these are very speculative investments.
While many investors were hit by the drop following the February 2021 peak, the fact that the RVN price was able to peak suggests it could grow in the future.
Many riskier investors predict that there is another huge bull run on the horizon and are holding on to profit.
These same investors believe that RVN could hit $1 by 2030.
Others look at the bear market with a stronger sense of risk management and believe that the RVN price prediction is overinflated.
These analysts believe it is more likely that RVN price will rise to $0.40 or $0.50 by 2030, but it could have a long way to go before reaching $1.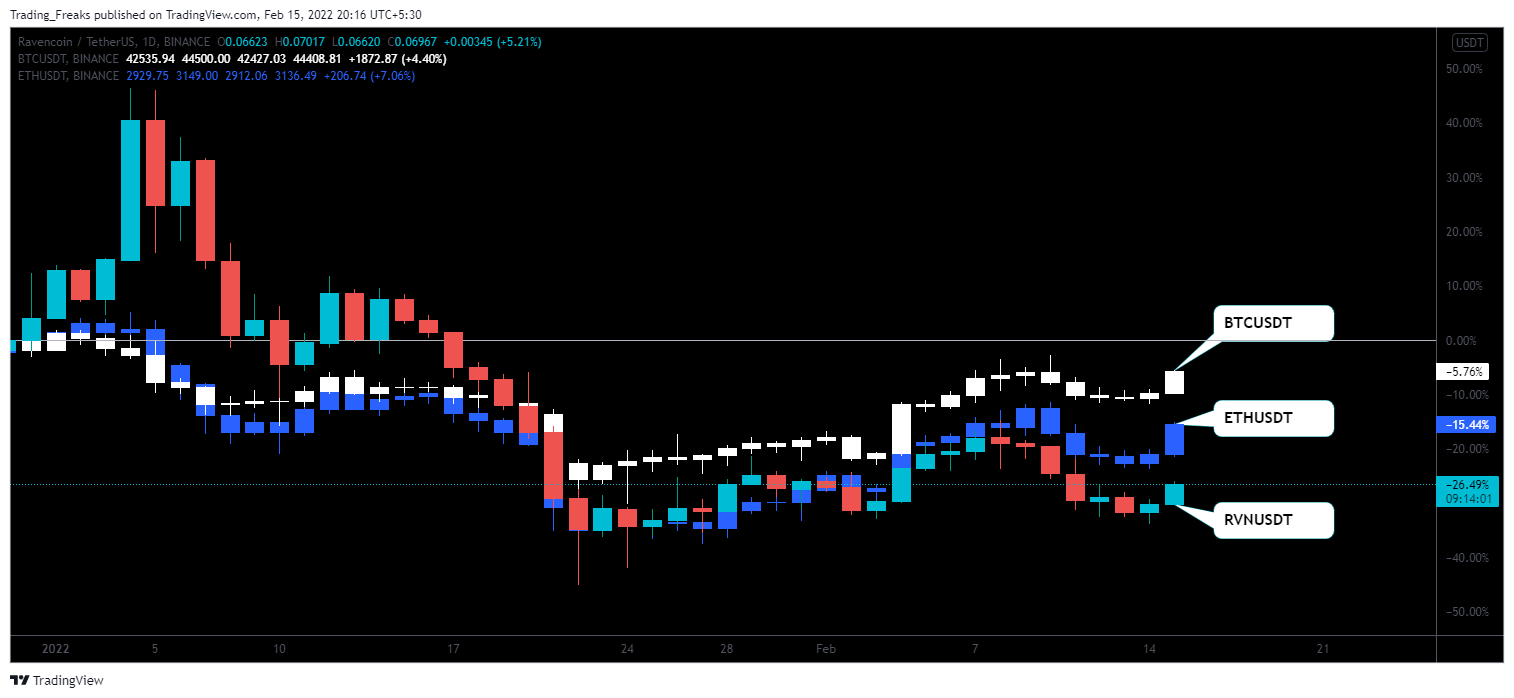 Can You Trust Ravencoin Technical Analysis?
As we said, crypto is a very speculative investment class, so you might want to take any technical analysis you see with a grain of salt.
However, the general market sentiment is that while Ravencoin investors will have new upper targets, it is only a good investment for long-term players and not those waiting on a gigantic bull run.
Most believe that the bullish trend will continue and the Ravencoin price could be between $0.10 to $0.15 before the year closes out.
A commonly held Ravencoin price prediction for 2022 is that it will continue to double year after year until it eventually hits $1.
Is Ravencoin a Good Investment?
Whether Ravencoin is a good choice for your investment portfolio heavily hinges on doing your own research and deciding your level of risk.
The crypto market, in general, is considered high risk compared to other investment strategies.
But high risk could come with higher rewards.
SHIB, FLOKI, and DOGE are examples of risky plays that paid off for early investors, but they lost a lot of their value over time.
Many late to the game learned the hard way that timing is everything.
The past performance of the RVN price suggests that its upcoming bullish momentum could be intact, but its price history showcases that there could be more dips along the way as well.
Many major stock predictors suggest that Ravencoin will increase in price over the next five years.
Still, the exact RVN price prediction varies, with many suggesting it will only make it to $0.55 by 2030, while others believe it could tap out at the dollar mark.
It may not have a significant breakout any time soon.
But long-term investors could see their investment grow over an extended period.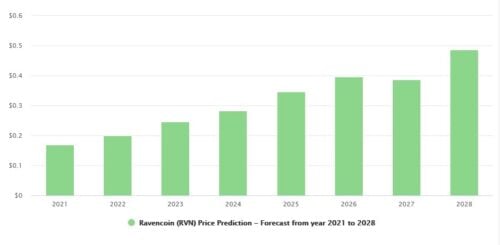 Will Ravencoin Hit 1 Dollar?
You could perform technical analysis after technical analysis and still not have a good answer to this question.
With its bullish momentum intact, it is always possible that Ravencloin could hit $1 within the next five to ten years.
However, its rapid fall during the May 2021 cryptocurrency market crash displayed that its investors are subject to losing money rapidly, just like any other crypto.
Price predictions are especially difficult in the crypto space, but Ravencoin might be more likely to hit $1 than other less reputable cryptocurrencies.
That's not a guarantee, though, and it might never reach the 1 dollar mark.
Will Ravencoin Hit 1 Dollar: Final Words
At the end of the day, whether you should buy Ravencoin or any crypto asset is a complex investment decision that should be evaluated carefully.
There are some coins that experience massive growth in a short time before plummeting in price, like Bonfire.
So make sure to do your research, and don't just pick up a token because it's trending.
That said, as far as crypto goes, the Ravencoin cryptocurrency is being managed by a team of core developers who are invested in the trading tools and market space.
Unlike pump and dump schemes, Ravencoin has the potential to offer future results that could compliment your trading portfolio if the Ravencoin RVN price prediction can be trusted.
Bear in mind that forecasters are often wrong, so the level of risk you take when you build crypto assets should be based on the amount of money you can afford to lose.