Wendy's is the fourth most popular fast-food chain after McDonald's, KFC, and Starbucks, serving more than 12 million loyal customers. But in today's cashless world, many customers want to know: does Wendys take Apple Pay? We're checking out whether Wendy's accepts Apple Pay and what other payment options are available.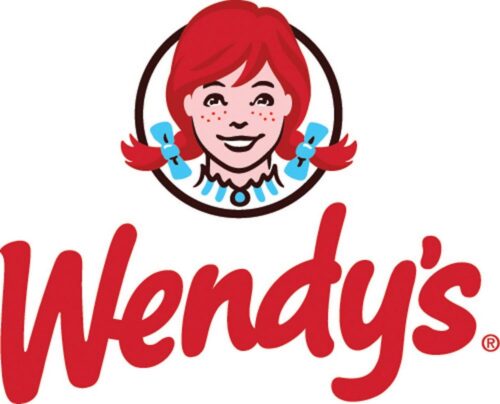 Does Wendy's Accept Apple Pay?
Wendy's does take Apple Pay, but there's a catch: it only works with the Wendy's App. This is somewhat of recent development, as Wendy's initially did not accept Apple Pay.
This is a big win for Apple users who prefer this payment method for buying fast food.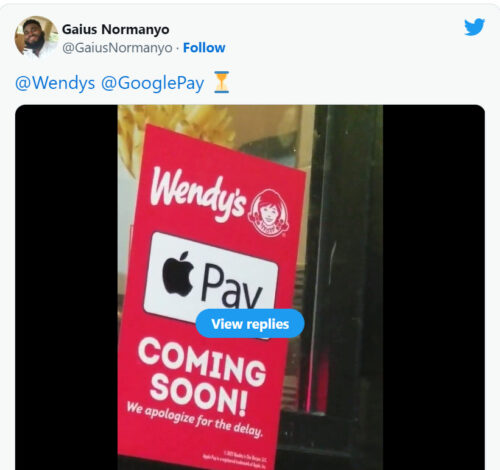 So what is the Wendy's App, and how does it work?
What Is the Wendy's App?
Wendy's offers an app that is much more than just a simple menu system. There are several things that you can do with Wendy's app.
First of all, you can choose all the yummy items that you want to buy and place the order from the app before even reaching Wendy's
You can save your favorite orders as well. Many people like to order the same things each time they visit fast food places like Wendy's. It's good to have a way to order without having to follow all the steps again.
Another good thing is that you will always get the latest and most updated menu with Wendy's mobile app.
When you order with Wendy's app, you also earn reward points each time. You can store up these rewards points to buy food later on.
The app also runs promotions and discounts for app users from time to time. Who knows, you might get your meal free!
But perhaps the most important benefit to the app is that you can load cash in it and make payments at Wendy's without having to carry your wallet.
In a way, Wendy's mobile pay was a substitute for Apple Pay when you were eating at Wendy's.
However, all that has changed, and recently, Wendy's app has started to accept Apple Pay as well.
The Wendy's app is available for both Android and Apple devices. However, the functionality for accepting Apple Pay is only on the iOS app.
How Does Wendy's App Work?
Here's how ordering with Wendy's app works:
Load cash into your Wendy's app using your credit/debit card

Choose your store location

Add items to buy

Customize your order (add extra French fries, choose your soda, etc.)

Once you are ready to order, just go to the payments section

Provide the cashier with your 6-digit code to pay.
You can also choose to pay using your credit and debit card directly without loading cash into your wallet.
When you reach a Wendy's restaurant or drive-thru, they will prepare your order, and you will get your food.
You will also get reward points on every order. You can use these reward points to purchase more items when you go to Wendy's next time.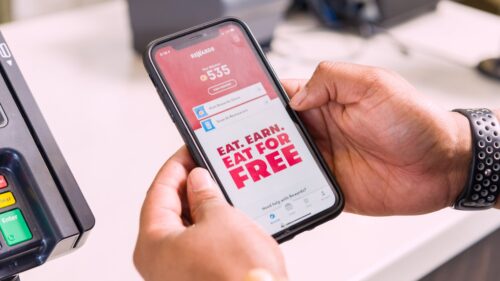 What Payment Methods Does Wendy's Accept?
Wendy's does accept all traditional modes of payments, such as the ones listed below:
All major credit cards and debit cards

Cash

Wendy's gift cards

Prepaid cards
You can use these methods both in-store and on their mobile app, as well as on their website.
Apart from this, Wendy's accepts SNAP EBT at some locations in states where SNAP is running. However, the company does not accept SNAP EBT on its app or on their website.
Recently, customers have posted videos and images of a near field communication (NFC) cash register at a Wendy's store and Apple Pay coming soon signs, so we are hopeful that Wendy's is finally turning the leaf.
Fast-Food Companies That Take Apple Pay
So we know now that Wendy's may not accept Apple Pay at most locations, but then where else can you get a juicy burger with fries or chicken sandwiches using Apple Pay?
Here's a list of fast-food restaurants that take Apple Pay:
Trader Joe's

Jamba Juice

Chili's

Panera Bread

Panda Express

White Castle

Subway

Baskin-Robbins

El Pollo Loco

Firehouse Subs
How to Find Companies That Take Apple Pay?
Despite Apple Pay growing leaps and bounds in the last decade, many fast-food chains and retailers still seem to be behind the times when it comes to accepting it.
Wouldn't it be nice for you to have a way to figure out whether the restaurant or store you are visiting takes Apple Pay before you go there?
Thankfully, the answer to that lies literally in your hands – because Apple has given us the way to do it in our iPhones.
Here's what you need to do:
Find the Maps app on your iPhone

Locate the store you are visiting in Maps

Click and scroll up to the info section

Find the "things to know" part. It should be at or near the bottom

If you see the Apple Pay logo or "Apple Pay accepted" sign somewhere, you're good to go
If you don't find anything that indicates that the store accepts Apple Pay, remember to carry your cards and wallet!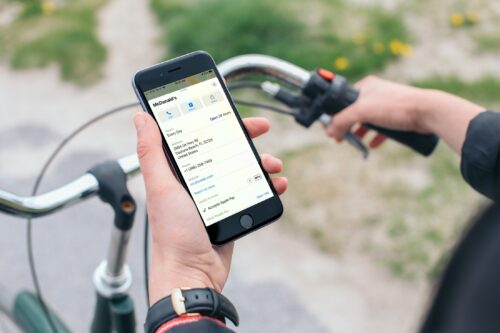 How to Set Up Apple Pay
Setting up Apple Pay is quite easy. Here are the things you need to do before you start:
Make sure your Apple Device is compatible with Apple Pay

Make sure you have a compatible credit or debit card

Make sure you have a working Apple ID
Next, you need to set up your Apple Pay Wallet. Below is a step-by-step guide:
Open Apple Wallet on your iPhone

Click on the "+" button to add your payment method

Select type of card (credit or debit)

Enter card details (you can also scan it with your camera)
Sometimes, banks and card companies need further verification or might want you to log in to their apps as well. Also, they may send you a confirmation message.
But in most cases, your Apple Pay should be ready after these steps.
If you now pair your Apple Watch with your iPhone, you can use Apple Pay with the Watch as well.
How to Use Apple Pay
Apple Pay works using the Apple Wallet app on your iPhones and Apple Watches. We will share the process for both one by one.
If you are using your iPhone, here's what you need to do:
Make sure that you are at a store which has an NFC card reader

Scan the items that you need at the store

Double-click on the Apple Pay side button in your iPhone

Use either Face ID or Touch ID to authenticate yourself

Put the iPhone next to the NFC card reader machine

You will see a green checkmark on your iPhone in a few seconds.
The green checkmark indicates that your transaction is complete and money has been credited to the store.
If you want to leave your phone behind, too, you can do it with Apple Pay on Apple Watch. Here's what you need to do:
Unlock your Apple Watch

You will see a side button just like your iPhone, click on it

Keep your Apple Watch near the payment counter

In a few seconds, you will get a slight buzz indicating payment is complete
Final Thoughts
Wendy's does accept Apple Pay, but it's a bit of a workaround and only functions with the Wendy's App. This could change over time, but it doesn't look like it will happen any time soon.
At the same time, Wendy's does accept cash, all types of credit and debit cards as well as gift cards.
Wendy's has a mobile app that you can load cash with, and it's a great way for you to make contactless payments.
Wendy's app has recently started accepting Apple Pay in its iOS version. We think that's a great step from Wendy's.
Hopefully, the integration with their website will also follow soon.
The app also has a host of other cool features and can give you reward points for your purchases, so you should definitely check it out.
Wendy's and Apple Pay FAQs
Can I Pay at Wendy's with My Phone?
Yes, you can pay at Wendy's with your phone by using its app. You can load cash into it and pay at Wendy's just like you would use any mobile payment options. Recently, the app has also started to accept Apple Pay in its iOS version.
Does Wendy's Take Google Pay
As of right now, Wendy's does not take Google Pay. However, with recent reports of NFC machines entering Wendy's stores, we are hopeful that Google Pay will soon be accepted at Wendy's too. Apple Pay is already on the table, so it could be easy to implement.
Does Wendy's Have a Reward Program?
Yes, Wendy's has an excellent rewards points program. You can earn 10 points for every $1 spent buying food from Wendy's To collect the rewards, you need to either order using its app or website, or else scan the QR code on your transaction receipt. Once you have enough points, you can get free food!
Does Wendy's Take Mobile Pay?
Wendy's does take mobile pay through its Wendy's App, which adds another layer of convenience to this popular fast-food giant. Even better, you can use Apple Pay with the app. Many other options aren't covered, like Google Pay.
Does Wendy's Take EBT?
Wendy's takes EBT cards in states which have the SNAP EBT program, but it does not take EBT on the app or website. Also, EBT does not appear to be an available option for every Wendy's, so you might want to double-check before heading over.