All eyes have been on the electric vehicle market over the last few months.
Climate change has become an increasingly pressing issue, and electric vehicles could be a cleaner form of transportation.
In this article, we'll talk about the best EV charging stocks to invest in to make the most of this trend.
Electric vehicles have been on the market for many years now. However, in the past they were mostly considered luxury items.
The recent success of companies like Tesla proves that there is real demand for electric vehicles, and that will only increase over time.
Of course, as there are more electric vehicles on the road, we will need to build more EV charging stations.
There are several companies developing EV charging stations right now who are competing to build the biggest charging network in the US, but we have yet to see a frontrunner emerge.
Wondering where to buy the stocks listed in this article? Check out WeBull! WeBull is an amazing trading app that offers zero commission fees and will even give you a free stock just for signing up!
Best EV Charging Stocks
Tesla (NASDAQ: TSLA)
We can't talk about electric vehicles without mentioning Tesla.
This company pushed electric vehicles to the forefront of public consciousness over the past few years.
With celebrity entrepreneur Elon Musk at the helm, they've generated a huge amount of hype around their sleek, energy efficient cars.
Unlike many other electric vehicle companies, Tesla actually has its own charging stations around the US called Superchargers.
The only way to charge a Tesla is through one of their charging stations – they can't charge at any other type of charging station.
Since Tesla has such a large market share in the EV industry, it makes sense to add them to your portfolio as a long term investment. Tesla's stock price has grown exponentially over the past year and has consistently been in the news.
However, the stock has dipped slightly throughout the month of February.
This stock dip could be a result of production shutdowns at Tesla's factory in California.
Winter weather throughout the country has made it difficult for the supply chain to keep up.
We can bet that Tesla's stock price will recover in the long run due to the company's high profile.
Even though sales could take a hit in the short term, their factories should quickly recover to full capacity.
Now could be a great time to 'buy the dip' and get great returns in the long run with Tesla.
Switchback Energy Acquisition Corp. (NYSE: SBE)
Switchback Energy Acquisition Corp. is a SPAC, or special purpose acquisition company. Many companies use SPACs as an alternative to IPOs as a way of going public.
In this case, Switchback Energy Acquisition Corp. will be taking ChargePoint public.
ChargePoint currently operates the largest network of EV charging stations in North America and Europe.
Right now, they have over 100,000 stations.
Many investors are wary of SPACs because it's difficult to get an idea of the target company's financial performance ahead of time.
However, that's not the case with ChargePoint.
ChargePoint is 13 years old. They have a large network of chargers and are very financially stable.
Their business model is very efficient, so they're able to keep costs low even as they expand.
Since Switchback announced their merger with ChargePoint in September, the stock has skyrocketed.
However, there's still plenty of potential for Switchback to keep growing.
The two companies are set to merge later in 2021, so now is the time for investors to buy in.
Plug Power (NASDAQ: PLUG)
Electric vehicles aren't just for personal use – many businesses are buying electric versions of the vehicles they rely on.
Plug Power makes hydrogen fuel cells specifically for commercial vehicles.
Plug Power's headquarters are in Latham, New York, and they have manufacturing facilities in nearby Rochester as well as in Spokane, Washington.
The company is growing at a rapid pace, and their shares have grown dramatically over the last year.
Crypto Alert
I'm A One Percenter
It doesn't matter if you have $500 or $5 million.
Here's what I recommend you do with your money right now.
ATTENTION: The following video is a serious financial warning from one of America's richest men. He believes this event will make the rich even richer while financially affecting countless others and fan the flames of social protest.
It's free to watch and by doing so I believe you'll be ahead of everyone else struggling to understand what is really going on. I hope you take advantage of this opportunity!
Click Here For All Of The Details
We earn a commission if you click this link and make a purchase at no additional cost to you.
Their hydrogen cell technologies are very innovative and are in high demand around the world.
They're partnering with SK Group to expand into the Asian market, and they also recently announced a partnership with French auto manufacturer Renault.
On top of that, Plug Power plans to launch green hydrogen manufacturing plants.
The first one will be in upstate New York.
Plug Power raised $1.8 billion from a stock offering last month.
However, their most recent earnings report was concerning for many Wall Street experts.
They saw unexpected revenue losses, which had some reconsidering their position.
However, this company still has a lot of potential for growth, especially considering how new this technology is.
Investors should be cautious given the recent financial data, but this could still be a good pick in the long run as electric vehicles become more mainstream.
Ready to build your portfolio? With Public.com you can follow other investors, discover companies that are inline with your beliefs, and invest into stocks and crypto with very little money! What are you waiting for? Check out Public Now!
Electric Vehicle Charging Stations Stocks
Blink Charging Co. (NASDAQ: BLNK)
Blink Charging Co. is another leading charging company that has been in the news over the past year.
While Blink doesn't have as many stations as ChargePoint, it has some exciting partnerships that make them worth paying attention to.
Specifically, Blink Charging has partnerships with massive companies like Facebook, Whole Foods, Starbucks, Walmart, and more.
Right now, they have over 23,000 stations in North America, Europe, and the Middle East.
Blink Charging has excellent name recognition, and they've been around for over 20 years.
The stock saw exponential growth over the past year, but started to drop throughout the month of February.
However, this could be a good time to buy the dip, as Blink isn't slowing down anytime soon.
They recently announced that they will be installing EV charging stations throughout the state of Vermont.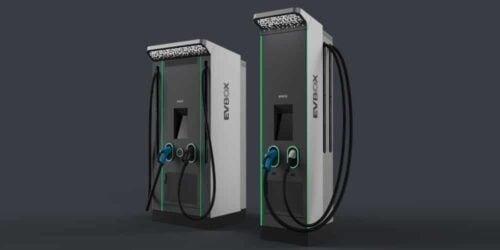 TPG Pace Beneficial Finance Corp. (NYSE: TPGY)
TPG Pace merged with EV Box, an EV charging company, in December 2020.
This merger has been great for their stock price, which quickly increased as soon as the merger was complete.
EV Box runs the leading EV charging network in Europe.
They have installed over 190,000 charging ports in Europe and have a large market share there.
So far, this strategy has proved successful for them, as they haven't had to compete with ChargePoint and Blink in North America.
This focus on Europe is particularly promising, because electric cars are far more common there than they are in North America.
Many European companies are very dedicated to reducing their carbon footprint and finding sustainable long-term solutions.
Best Electric Car Charging Companies Stock
Newborn Acquisition (NASDAQ: NBAC)
Newborn Acquisition is another SPAC involved in the EV market.
While the SPAC is based in China, they're looking to merge with Nuuve, a company based in San Diego, California.
Nuuve offers a number of unique EV products and solutions.
One of their focus areas is vehicle-to-grid technology, which takes excess energy from the car and puts it back into the power grid.
They're also building their own charging stations with a focus on commercial fleets.
This company has some very unique offerings that set it apart from other charging companies.
This is definitely a SPAC to keep your eye on as they go public.
Stock Advice That Beats The Market!
Stock Advisor's recommendations
have beaten the market over the past 19 years. Tired of picking losers?
Stock Dork readers can join for only $99 a year!
Check out Stock Advisor today!
Should You Buy EV Charging Stocks?
There are plenty of reasons to buy electric vehicle stocks right now.
There's never been more hype around EV companies, as many people are looking for eco-friendly transportation options.
Tesla and Nio have been in the headlines this year, as they're developing some of the most innovative electric cars on the market.
Established auto manufacturers like Ford and GM are also getting in on the action.
Ford has committed to investing more money in EV production, while GM has committed to switching entirely to electric cars by 2035.
The results of the 2020 election also seem promising for electric vehicle stocks in the US.
Joe Biden won the presidency, while Democrats retain control of the House and the Senate.
Democrats are more likely to push for environmentally friendly technology and support EV development.
With more people driving EVs, we are going to need more charging stations to support them.
Charging companies like Blink, Chargepoint, and EV Box are working quickly to expand their network of charging ports.
This bodes well for their revenue in the long run.
There's been so much hype surrounding electric vehicle companies this past year.
As a result, many EV stocks saw huge price increases at the beginning of 2021.
Investors should be wary of a bubble bursting and focus on stocks that have strong long-term business models.
Looking for even more great stock recommendations? Check out Trade Ideas. Trade Ideas is an innovative software program that uses AI technology to help you find exciting new stock picks without the hassle.
EV Charging Stocks: Final Thoughts
There's no doubt that electric vehicles are changing the entire transportation industry.
While there's tons of hype around EVs right now, it's unlikely that they'll go away anytime soon.
Investing in EV charging stocks could be a great way to get ahead of the trends and enjoy hefty returns in the future.